In the fall of the year that the world did not end, I left my rural SouthWest comfort zone to go East. That summer I had graduated Valedictorian of the Breckenridge Texas High School class of 2000, bound for Boston. Before I left Texas my high school science teacher, Mr. Weems, or "Coach", schooled me on how to cut some of my drawl so people could see the diamond beneath the rough. Yes I was rough… and tumble. I loved the taste of alfalfa flowers, runnin' barefoot in the mud, spot lightin', and dissecting things. I wrote my own songs, sang with a twang, and played bari sax because it boomed. I said "fixin" and "ma'am" and used the royal "ya". Coach did the best he could.
I stuck out like a sore thumb, but I loved Harvard. I had to take remedial writing classes, and my teacher called my paper "shit", but I loved Harvard. I learned what a W.A.S.P. was, and that I was one, but I loved Harvard. I made my first C, but I loved Harvard. I was no longer the smartest person in the room, so I loved Harvard.
Harvard had a great workstudy program. I got paid to sing to old people at a local assisted living and rehabilitation hospital. My boss was a creative yet wise woman. Joan liked it that I called her "ma'am". I liked it that she radiated joy, acceptance, and healing. I made enough money to get by most weeks, and better than that: I got curious about the brain. I changed my academic focus from biochemistry to psychology. I first tried to figure out how music helped people with memory problems. Later, I took an interest in healthy aging and that grey area of where we draw the line at "normal" memory loss. I had to leave Dear Harvard in 2004 when I managed to graduate with honors, like the rest of them.
That summer I started work at MIT, where I managed the laboratory of the inestimable Professor Suzanne Corkin, may she rest in peace. I stumbled upon this incredible mentor in response to a job advert to which I applied to even though I didn't meet the minimum qualifications. I thought I had fudged the interview for sure when I asked the generic "what is your most influential piece of work?" and she dug out a copy of one of the classic readings from intro psychology. I hadn't done my homework. I think she found me endearing, though I later learned I was not her first choice.
Sue was so notorious I was warned before joining the lab that her standards were exacting. Man, they were not kidding! She really put me through the ringer, and honestly every time I thought I might pass through unscathed I was dead wrong. I don't know what she told people about me, but I know that she mined my potential and polished it even. I try to do her proud, still. You can read more about her amazing career many places, but here is an essay I wrote about my impression of her for a travel grant application. I didn't get the grant, but I don't care.
Now, I always wonder how to tell the next part of my story. It's not easy. It's about my failure, my mistakes, my bad decisions. I am not sure whether going to the University of Arizona was the bad decision, or not leaving a lab where I wasn't the best fit was the bad decision… or dragging my heels when I could have just jumped through hoops and gotten out was where I went wrong. Anyway, I entered a clinical neuropsychology PhD program and was funded by the National Science Foundation to use virtual reality to try and recognize early stages of memory failure. I was a bit of a golden child. Then I wasn't. I ended up leaving with a "terminal Master's" which is as bad as it sounds. They decided I did not have the capacity to finish a PhD. In many ways they were correct, as I certainly did not have what it would take to finish my PhD in Arizona.
It wasn't all a loss, though. I was the elected President of 8,000 graduate and professional students. I advocated against bringing guns on campus. I secured funding for and initiated a centralized enrichment programs to teach graduate students skills like statistics and conversational Spanish. I negotiated preventative health care and year-round gym access for almost 40,000 students. I fell in love and got married. Still, I failed.
Any self-loving sane person would have taken the hint and given up on a PhD. I could have easily been hired to do the research I loved, but for some reason I persisted. In fact, I was very lucky. A brilliant woman I had worked with one summer, Professor Kate E. Watkins, asked if I might like to do a PhD with her. So, I applied to Oxford, knowing if I got in I couldn't afford to go. I gave it a shot, though, and by some miracle, I was awarded a Clarendon Fund scholarship (read about those here). That's like being a Rhodes scholar except it isn't celebrating a notorious racist maniac. My official placement was in St. Anne's College, reading for a degree in the Department of Experimental Psychology, which is part of the University of Oxford's Medical Sciences Division.  In all my wildest dreams, moving to England to pursue my obsession with the brain had never even crossed my mind. And yet, I got a passport and off I went.
This PhD wasn't all flowers and sunshine, though. The move and the pressures of academia were too much for my young marriage, so we divorced. I tried to pour my excess energy into music at that time to avoid remembering what a social failure I was… that admittedly took a bit too much time from my pursuit of higher learning. The year after my divorce my father contracted meningitis and passed away. I flew to say my goodbyes, came back to open a production company, then went back to the US for a scientific conference and Thanksgiving… those few months were just terrible. I suppose it took losing my father to jolt me back into focus. I know it took losing my father for me to make better decisions about the sort of people I allowed in my inner circle.
One of the best decisions I made in all this turmoil was allowing myself to love. Love just for the sake of love, for the fun we had together (sometimes childish fun riding model trains and waving like we were 5 again), for the music we made. I didn't pay any attention to what he was like "on paper". I ignored his ambitions and qualifications. I only focused on how we felt, and what we created together. We made a love child, mostly because I very stubbornly refused to ever marry again. After a few months I got over myself and I married John. He is a creative genius who was the guitarist in a band I managed and wrote songs for. He accepted me for who I am and supported me when life was chaos, pain, and disappointment.
With some complications we had our first child, Tommy G, in November of 2015. He was large, and stuck, and born very close to death (on a scale of 1-10 with 10 being good and alive and 0 being dead, he was a 1). Recovery was long, but he and I made it together. He loved my singing and I loved his face, so it worked out. I returned from maternity leave to submit my doctoral thesis, and defended my work when I was seven months pregnant with our second child, born August 2017. Her name is Augusta, but we call her Augie Lea.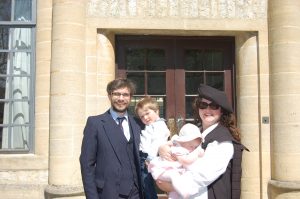 Now I am officially Dr. Connally, after decades of school, and a few massive failures along the way. I am not working currently, aside from publishing my thesis work. I do still write music and sing when I get a chance, and I cook and garden. I don't have much time for reading at my own level, but I do read and supervise puzzles almost all day every day. Truth be told, with a toddler and a baby, there's not too much time for much besides diapers, vegetables, and nursery rhymes. We still live in Oxford, and life is wonderful here. John is a water scientist, and we are beyond wealthy in love and life. I do hope to get back to work soon exploring the mysteries of the brain, but I am often reminded that these years fly by and I will spend my lifetime wishing them back. So now, I just breathe, sing, and help them grow.