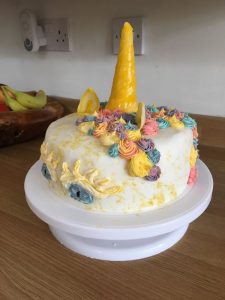 My husband loves lemons and cake. He had a birthday and asked for a lemon cake… again. Last year I made a lemon madeira which was a bit heavy for the occasion. This year I went with a lemon chiffon, layered with lemon curd and vanilla butter cream icing, then finished with a paper thin lemon zest fondant . That was last month. Now this month my daughter turns 1, so I am tweaking and posting the recipe.
I have separated the ingredients list below into the major 3 cake components, in case you want to use store-bought curd or do this in steps (as I do with 2 little ones). The  methods below walk you through the entire process from start to finish.  I basically just wrote this up as I did it. Sorry if anything "too basic" is left in, or some details are left out. Feel free to contact me with comments/questions. Basically, you make the lemon curd (can do up to 2 weeks in advance). While the lemon curd chills, make the cake.  While the cake cools, make the frosting.
You will need a dozen medium sized eggs and 5 good sized lemons for this recipe. Make sure your eggs are at room temperature. You can zest and juice your lemons ahead of time and freeze if you are making this out of season. I would estimate that each large lemon yields about 4-5 heaping teaspoons of zest and 3/4 cup of juice. I used one 22 cm and one 24cm  baking tin for this recipe. This way I can shave off a bit and have a cake pop ready for the family to eat almost immediately. Do not grease your baking tins because the chiffon needs to be able to stick to the sides to get the desired rise.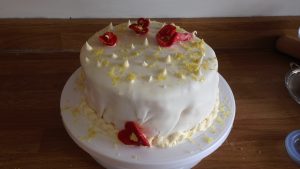 Ingredients
cake
8 medium eggs, separated

2 cups pastry flour (yes, use pastry flour not all-purpose)

1-1/2 cups caster sugar

3 teaspoons baking powder

1 teaspoon salt

1 large lemon (zest, pulp, and juice)

1/2 cup rapeseed oil

2 teaspoons vanilla extract

1 teaspoon cream of tartar
lemon curd
4 large lemons, zest, pulp, and juice

200g caster sugar

100g butter

4 eggs, slightly beaten
FROSTING
250g salted butter, softened to just spreadable

500g icing sugar

2 teaspoons vanilla extract

1-3 Tablespoons milk
Method
Lemon curd
Put four 200ml jars and lids in the dishwasher on a rapid, hot cycle to sterilise them.
Zest and juice your  lemons into a medium heatproof bowl. Reserve about 3/4 cup juice/pulp and 4 heaping teaspoons zest together in separate small bowl to use later for the cake.
Add butter and sugar to the bowl of lemon juices, zest, and pulp.
Add about 1 inch of hot water to the bottom of a heavy saucepan. Put bowl on top of the saucepan to make a double  boiler. Make sure the bottom of the bowl does not touch the water.
Heat the mix stirring occasionally until the butter has melted, then mix thoroughly. Slowly pour in your slightly beaten eggs and continue to whisk slowly for about 10-15 minutes until thickened like custard.
Strain lemon curd into jars. Save the pulp/bits in a jar, as that will be delicious on toast, as well. Give one jar to a neighbour. Keep one full jar of lemon curd for next week, eat your jar of pulp, and save one for the cake. When cool you can keep them in the fridge for 2 weeks safely. Great on toast.
Lemon chiffon cake
Preheat your oven to 170C degrees (Gas Mark 3, 325F).  Do not grease your pans. 

Separate your eggs and put your whites into the bowl of a stand mixer. Add cream of tartar. Once the whites are at room temperature, beat on medium until they form peaks and are stiff, but not dry. Scrape sides from time to time or  you may end up with a pool of egg whites. This step can take up to 30 min, so do the rest of the prep and come back to the egg whites later.
Sift together pastry flour, baking powder, and salt 3 times.
Beat your yolks with a hand whisk, add sugar, oil, lemon juice/pulp/zest, and vanilla. Beat until smooth.
Slowly sift your dry mix into this egg yolk mix and beat until well combined.
Fold your egg whites into the cake mix gently, starting with 1/4 of the egg whites, then then next 1/4, and so on. Incorporate these two mixes carefully for the best result.
Gently spoon mix into ungreased baking tins. Tap tins on the counter lightly to remove any air bubbles. Cook on the bottom rack in oven for about 40minutes.  When done cake will spring back lightly when touched in the centre.
Immediately turn cake over onto cooling rack and leave in tin to cool. Cool at least 1 hour before removing from tin.
Vanilla buttercream frosting
Let your butter come to room temperature until just softened.  Do not allow it to become over soft/almost runny. It needs to still hold shape, but be just spreadable with a knife. 

Beat butter with icing sugar and vanilla until smooth. Add milk to reach desired texture.
Cake Assembly.
Put one cake on the serving dish.

Make a little dam out of buttercream on edge of cake.

Fill dam with  lemon curd.

Pipe a layer of butter cream on top of lemon curd.

Place second cake on top. 

Cover the entire cake and top with a thin layer of butter cream.
Move cake to fridge for 30 minutes, then remove and decorate as you wish.
Pictures – In case they help