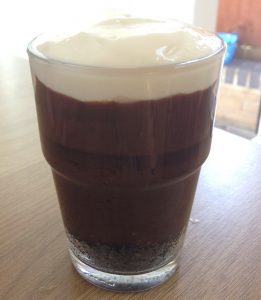 Not terribly long ago I bought soft (cream) cheese on sale and then needed to do something with it. I asked my husband whether he'd rather have the good old trusty fruity cheesecake he loves (that I also make into an ice cream)… or  trust me to experiment. The result was a guinness "cheesecake". It is no bake, so not the real NY deal.. but this is a great dessert if you love Guinness and want to have a surprisingly light, smooth, bitter treat.
This recipe is really easy. I basically make an Oreo crumb base, a Guinness and dark chocolate pudding, a coffee and milk chocolate pudding, and a vanilla no bake cheesecake. I layer in that order. I am sure it can be tweaked or improved, but this is a good start. Feel free to add your suggestions in the comments!
Guinness "Cheesecake"
Ingredients
1 can of Guinness, at room temperature
1 can of sweetened condensed milk
550-600g cream cheese 
50g unsalted butter
150g milk baking chocolate
2 tubes of Oreos
3 digestive cookies (or hobknobs or graham crackers)
2 Tablespoons of cocoa powder
2 Tablespoons of cornflour (cornstarch), separated
2 Tablespoons instant coffee
1 Tablespoon vanilla extract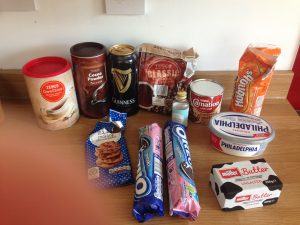 Method
Bring Guinness to a boil in saucepan, then turn heat down and simmer for 5 – 10 minutes. In the meantime do the steps below.

Separate your Oreos into two bowls. Grind Oreo cookie portions and your other 3 cookies in the food processor until they are like coarse bread crumbs. 

Melt butter in microwave, then pour into oreo cream filling and mix until smooth. Pour this back into the crumbs to make your base. Fill the bottoms of your dish with this base.

Measure 2 TBLS of heated guinness out into a small bowl. Add 1 TBLS of cornflour and mix until smooth. Add this 

back into the saucepan, turn up the heat, and whisk until smooth and thickened.
Pour your cocoa powder into a medium mixing bowl. Pour thickened Guinness over that and whisk until smooth. Now pour this mixture into the serving dish. Let this cool until set (30 minute in freezer, after coming to room temperature if in glass dish).
Break up the milk chocolate into that same mixing bowl once emptied.
Make a strong cup of coffee (or in the saucepan heat 200ml water and instant coffee until hot). Reserve 2 TBLS hot coffee and mix with 1 TBLS cornflour in separate container.
Let coffee cool slightly then pour over milk chocolate and stir until smooth. Pour coffee mixture back into saucepan, add the cornflour/coffee mixture, turn up heat and stir until just thickened. Remove from heat.
Once the Guinness layer is set, pour coffee/chocolate layer on. Let this set and cool (20 minutes)
Beat cream cheese with sweetened condensed milk until combined and slightly thickened with soft peaks. Add vanilla and beat for 30 seconds more.
Pour this on top of the other layers in the dish. Let it cool and set.
EAT.
Pictures (in case they help)